Highway of Tears Book Cover
Only 200 Limited Edition Prints Available
Artist Statement:
The eye represents the fact that someone has seen something. The frontlet of an owl's face is at the centre of the eye as it is the keeper of information and the holder of wisdom. The owl is a patient messenger. They can see into the soul and are capable of seeing the unseen. The eye lashes represent the tree line and the dense forest that lines the highway and railways of the north. The red in the trees represent the red dress which has become a national symbol for missing and murdered Indigenous women and girls. The teardrop represents the tears that continue to fall as friends and families continue to grieve and long for their loved ones. The yellow in the teardrop is placed above the woman/girl's head in recognition of the Yellowhead Highway also known as The Highway of Tears but more importantly, the yellow represents hope.
Limited Edition 'Highway of Tears' book cover artwork 16"x20" $170 CAD plus GST & shipping and handling.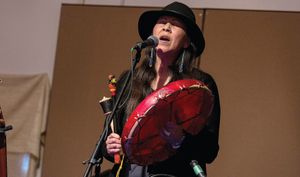 Background story for the book cover
It was in June 2016 when Brenda Wilson reinitiated a walk that had taken place ten years prior from Prince Rupert to Prince George. The purpose of the walk was to help create awareness about the violence facing Indigenous People and to honour the missing and murdered Indigenous women, men and LGBTQ and their families. 
She hosted forums at designated communities along the highway. The walk was called Cleansing the Highway and many people joined for sections of the walk in honour of their missing or murdered loved one(s).  
This is when I met Jessica McDiarmid. She was one of 4 women who set out on the walk. She had only planned to join for a couple of days to gather stories and information for her book but she ended up sticking it out for the whole 17 days. I joined the walk on June 17 in Vanderhoof, BC. There were roughly 100 km's left in the journey when Brenda put a call out for supporters to come and help finish the final leg. I jumped in with some friends and joined the relay into Prince George. Jessica and I remained connected ever since. I was invited to stay at her family home in Quick, about 35 minutes outside of Smithers, BC. I spent time there on many occasions and became friends with her Mom. It was through these visits and many conversations that Jessica and I became good friends. I would share new songs with her and her Mom and I would also share other aspects of my life which led to Jessica's interest in my visual art. I knew she was writing a book and there was at least one occasion when I was visiting that Jess would excuse herself to retreat to her bedroom/loft to work on the final edits of her book.  
It was months later, or maybe a year or so that Jess sent me a message saying that both her and her Mom agreed that I would be the best person in their lives that could handle the task of illustrating the book cover for the now titled, 'Highway of Tears' book. I was completely blown away! I remember the wave of excitement but also some self doubt. I didn't answer right away. I told my Mom. I even read her the message and she shrieked with excitement and said, "You can do this!" It was such a great honour to even be asked. I had my doubts and was so intimidated dealing with Penguin Random House. I had to learn the terminology and etiquette of working with a book publisher. I worked directly with a fellow named Five and he made me feel comfortable which helped to build my confidence. I got to work and after many back and forth emails and file sharing, we settled on the design. My drawing was done by hand and so needed to be digitized. I knew just the right person! My daughter Rayna is a professional animator. I headed to Vancouver where we sat down together and the result is the smooth crisp image that adorns this powerful book and limited edition print.  
Thank you for taking the time to read about how this all came to be. I am honoured to be a part of this incredible story and I hope that you purchase one of Jess' books and a limited edition print sometime soon. Please tell your friends too. I hope that together we can make a difference in the lives of all of the families who are still grieving the loss of their loved ones. I hope that justice is served and that we continue to protect our vulnerable Indigenous Peoples by raising our voices to create awareness. Jessica McDiarmid used her voice and is making waves around the world!
Highway of Tears:
A True Story of Racism, Indifference and the Pursuit of Justice for Missing and Murdered Indigenous Women and Girls
Click here to purchase